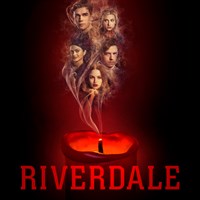 Description
When season 5 came to a close, Veronica and Reggie plotted to open a casino, Toni and Fangs began a romantic relationship, and a bomb went off at the Andrews house. As season 6 begins, Jughead Jones walks us through Riverdale — only the beloved town much darker, creepier, and seemingly haunted. The gang will wrestle with moral dilemmas, caught between and epic battle of good and evil.
Episodes
1. Chapter Ninety-Six: "Welcome to Rivervale"
2. Chapter Ninety-Seven: "Ghosts Stories"
3. Chapter Ninety-Eight: "Mr. Cypher"
4. Chapter Ninety-Nine: "The Witching Hour(s)"
5. Chapter One Hundred: "The Jughead Paradox"
Additional information
Duration
5 episodes (3 h 31 min)