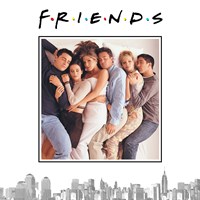 Description
Continuing episodes of the smash-hit television comedy series, documenting the lives and loves of six pals in New York City. Features all-star guest appearances by Rebecca Romijn-Stamos, Sarah Ferguson, Tom Conti, Teri Garr, Giovanni Ribisi, Jennifer Saunders, Michael Vartan and Charlton Heston.
Episodes
1. The One with the Jellyfish
3. The One with the Cuffs
4. The One with the Ballroom Dancing
5. The One with Joey's New Girlfriend
6. The One with the Dirty Girl
7. The One Where Chandler Crosses the Line
8. The One with Chandler in a Box
9. The One Where They're Going to Party!
10. The One with the Girl from Poughkeepsie
11. The One with Phoebe's Uterus
12. The One with the Embryos
13. The One with Rachel's Crush
14. The One with Joey's Dirty Day
15. The One with All the Rugby
16. The One with the Fake Party
17. The One with the Free Porn
18. The One with Rachel's New Dress
19. The One with All the Haste
20. The One with All the Wedding Dresses
21. The One with the Invitation
22. The One with the Worst Best Man Ever
23. The One with Ross's Wedding (Part 1)
24. The One with Ross's Wedding (Part 2)
Additional information
Duration
24 episodes (8 h 54 min)