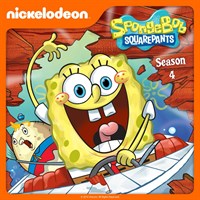 Description
SpongeBob SquarePants chronicles the adventures of a rectangular, yellow sponge that lives under the sea beneath the tropical isle of Bikini Atoll, in the sub-surface city of Bikini Bottom. SpongeBob is incurably optimistic, earnest, and well-meaning. Whether he's flipping Krabby Patties at the Krusty Krab restaurant, or jellyfishing in Jellyfish Fields, SpongeBob faces life with a truly unique approach.
Episodes
1. Fear of a Krabby Patty/Shell of a Man
2. PattyKrabs vs Plankton/The Lost Mattress
3. Have You Seen This Snail?
4. Good Neighbor/Skill Crane
5. Selling Out/Funny Pants
7. Mermaid Man & Barnacle Boy VI - The Motion Picture/Enemy In-Law
8. Patrick SmartPants (aka Abracamaron)/SquidBob TentaclePants
9. Krusty Towers/Mrs. Puff, You're Fired
10. Ghost Host/Chimps Ahoy
11. Whale of a Birthday/Karate Island
12. All That Glitters/Wishing You Well
13. The New Leaf/Once Bitten
14. Bummer Vacation/Wigstruck
15. The Thing/Hocus Pocus
16. Squidtastic Voyage/That's No Lady
17. Driven to Tears/Rule of Dumb
18. Born to Be Wild/Best Frenemies
19. The Pink Purloiner/Squid Wood
20. The Best Day Ever/The Gift of Gum
Additional information
Age rating
Genres
Animation
Comedy
Family/Children
Duration
20 episodes (7 h 50 min)