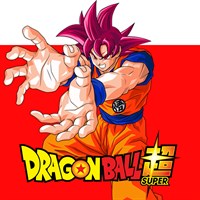 Description
Goku and his friends are back and finally have time to live normal lives. But when a new, powerful being shows up, their peaceful home is threatened again. Can they defeat Beerus, the God of Destruction? And what of this Super Saiyan God he seeks?
Episodes
1. The Peace Reward - Who Will Get the 100 Million Zeni?
2. To the Promised Resort! Vegeta Goes on a Family Trip?!
3. Where's the Rest of the Dream?! In Search of the Super Saiyan God!
4. Aim for the Dragon Balls! Pilaf Gang in Action!
5. The Ultimate Fight on King Kai's Planet! Goku Vs the God of Destruction Beerus
6. Don't Anger the God of Destruction! Excitement at the Birthday Party
7. How Dare You Hurt My Bulma! Vegeta's Sudden, Angry Shift?!
8. Goku Arrives! A Last Chance from Beerus Sama?!
9. Sorry for the Wait, Beerus Sama. The Super Saiyan God Is Finally Born!
10. Unleash It, Goku! The Power of the Super Saiyan God!!
11. Let's Keep Going, Lord Beerus! The Battle of Gods!
12. The Universe Crumbles?! Clash! God of Destruction Vs. Super Saiyan God
13. Goku, Surpass the Super Saiyan God!
Additional information
Age rating
Genres
Action/Adventure
Anime
Duration
13 episodes (5 h 5 min)